Hebei Ruixin produces series of basic violet dyes: Basic violet 1, known as Methyl Violet, basic violet 3, basic violet 10, basic violet 14 and basic violet 11 and other types.
Basic violet 1, just like other basic dyestuff, is ideal for dyeing anionic fabrics, such as wool, silk, nylon, and acrylics where bright dyeing is the prime consideration.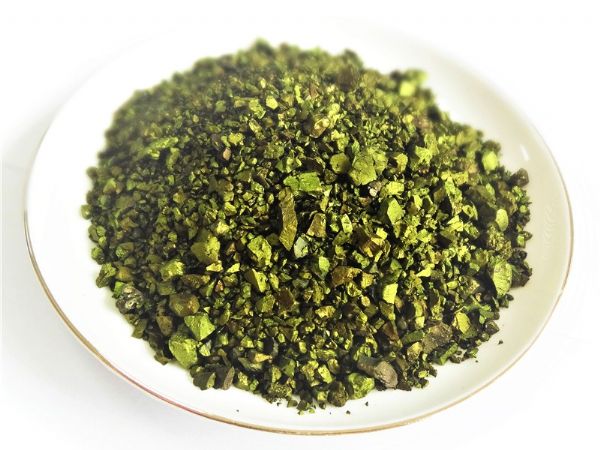 Basic Violet 1, other name: Methyl Violet 2B
CAS No.: 8004-87-3
Molecular Formula: C24H28N3Cl
EINECS No.:277-459-0
Molecular Weight: 407.99
Appearance: shinning dark fluffy green crystals
Strength: 100%
Colour index: c.i.basic violet 1
Purity: 30%-100%
Insoluble %:≤0.25
Moisture %:≤1
Properties:very soluble in water and alcohol.
Usage: Dyeing Paper, Moisquito Coils,Leather and Silk etc.
Packages: 5KG Iron Drums , Cartons and Woven bags.
Storage: The product must be stored in shade, dry & well-ventilated warehouse. Avoid to be contacted with oxidizing chemicals and combustible organic substances. Keep it away from direct sunlight, heat, sparks and open flames. Carefully handle the product and avoid damaging the package.
Packing: 25KG iron drums , cartons and woven bags
Basic Violet, Yellow, Blue, Red Series Dyes Synonyms and Strength Lists
| | | |
| --- | --- | --- |
| Item | C.I. NO. | Strength |
| Auramine O | Basic Yellow 2 | 100% |
| Chrysoidine Crystals | Basic Orange 2 | 100% |
| Rhodamine 6 GDN | Basic Red 1 | 100% |
| Basic Red 1:1 | Basic Red 1:1 | 100% |
| Methyl Violet 2B | Basic Violet 1 | 100% |
| Methyl Violet 5BN | Basic Violet 3 | 100% |
| Rhodamine B EXTRA | Basic Violet 10 | 500% |
| Basic Violet 11 | Basic Violet 11 | 100% |
| Magenta | Basic Violet 14 | 100% |
| Victoria Pure Blue BO | Basic Blue 7 | 100% |
| Basic Brilliant Blue 2B CONC | Basic Blue 9 | 100% |
| Basic Brilliant Blue B | Basic Blue 26 | 100% |
| Malachite Green | Basic Green 4 | 100% |
| Basic Brown G | Basic Brown 1 | 130% |
| Basic Brown RC | Basic Brown 4 | 100% |